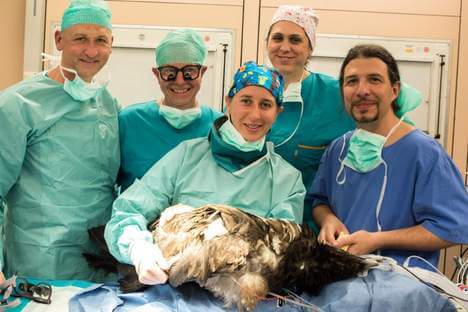 © Medical University of Vienna/Working Group Oskar Aszmann
The animal received a new foot. Up until now this method has also been used in humans. With Oskar Aszmann and his team at the Department of Plastic, Reconstructive and Aesthetic Surgery, the MedUni Vienna has been regarded as a world leader in bionic limb reconstruction. It was only last year that the world's first fully integrated bionic arm prosthesis which can be immediately used was developed at MedUni Vienna. In osseointegration, external parts of the prosthesis are directly connected to a bone anchor to guarantee a solid skeletal attachment.
In the case of "Mia", a bearded vulture which represent the largest flying birds in Europe with a wingspan of up to 2.6 metres. This particular bird had injured its foot so badly that it had to be amputated. For big birds like vultures, the loss of limbs means the inability to walk and ultimately death due to malnutrition. The team led by Oskar Aszmann designed and fabricated a special bone implant that could be surgically attached to the stump.
The operation on the bearded vulture was successfully carried out, together with Rickard Branemark from the Centre for Osseointegration Research (San Francisco), at the Centre for Biomechanical Research at MedUni Vienna (Director: Bruno Podesser). The bird made the first attempts to walk after just three weeks and the prosthesis was under full load after six weeks. Today the bearded vulture can once again land and walk using both feet, making it the first "bionic bird".
Read more about the success story of the German prosthesis specialist Otto Bock in Austria!