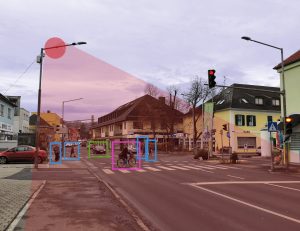 © ALP.Lab
The Tech.AD Europe Award honours extraordinary projects, solutions and innovations in the automotive industry. This year, ALP.Lab's submission "Traffic Monitoring as Source of Training Data for Autonomous Vehicles" was rewarded with the 1st prize in the category "Most Advanced Real-Life Testing & Simulation Techniques in Autonomous Driving". The project convinced the international expert jury as well as Europe's largest community of autonomous driving decision-makers in a live-voting. It offers an innovative and sustainable method to generate training data for autonomous driving systems.

The common way of collecting data involves large fleets of specially equipped cars and thousands of measurement drives. Instead, ALP.Lab equipped selected crossings with radar, LiDAR and optical sensors. That way, normal traffic can be monitored to collect training data faster, more cost-effectively and in a more environmental-friendly manner. "We collect seven million kilometres of training data per year - without driving a single meter", states Gerhard Greiner, Managing Director of ALP.Lab.

The sensors are mounted on street poles or traffic lights, enabling a perfect overview of all road users. Using special algorithms, every situation can then be represented from the perspective of cars, cyclists etc. The results are available for simulations and as test data for machine learning in different formats. Moreover, the traffic data can be enriched with additional information, such as weather, sunlight angles, road surface conditions, visibility and temperature. The new method is also economically convincing, in light of the fact that it works without expensive measuring vehicles and test driving.
Go on reading and learn more about the Mobility Industry in Austria!