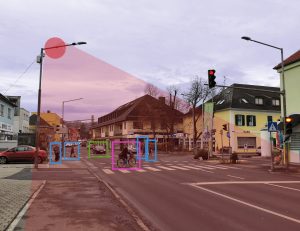 © ALP.Lab
The "ECO System Platform" offers data, tools and services for research and development projects in the field of automated mobility. The aim is to accelerate the development of mobility solutions. "The ECO System Platform should serve as a turbo for the further development of automated mobility", says Gerhard Greiner, Managing Director ALP.Lab.
Step by step, the entire "Automated Mobility" ecosystem is to be mapped out - from universities, research institutes, vehicle manufacturers and suppliers to public and non-profit providers of mobility-related data. JOANNEUM RESEARCH considers the ECO System Platform to be an important initiative in establishing a cost-efficient, collaborative and diverse use of high-precision digital twins and reference maps for the testing and simulation of automated vehicles. Traffic data, environmental data, video event data from traffic monitoring, dynamic display and event data from traffic control and examples of UHD maps as digital twins are already available. Such data is necessary for the development of automated driving functions, but municipalities, traffic planners and R&D institutions can also make use of them.
Continue reading and learn more about mobility research in Austria!