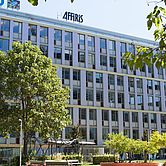 © Affiris
AFFiRiS AG is a clinical-stage biotechnology company involved in the development of novel Specific Active immunotherapies. AC Immune SA is a clinical-stage biopharmaceutical company doing pioneer work in the field of precision medicine for neurodegenerative diseases. The anti-alpha synuclein programmes targets neurodegenerative diseases caused by misfolded forms of human self-proteins.
AC Immune is acquiring all the assets and the underlying intellectual property from AFFiRiS related to vaccine candidates involved in the Phase 1 development to treat Parkinson's disease and multiple system atrophy (MSA) as well as the preclinical proof of principle data in dementia with Lewy bodies (DLB). The acquisition is expected to be concluded at the beginning of the fourth quarter of 2021.
Continue reading and learn more about life sciences research in Austria!