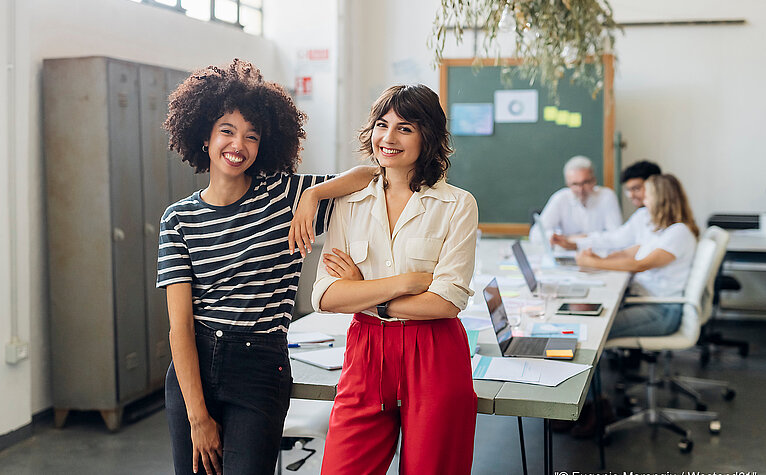 Establishment, law & taxes
Female Founders find a lot of support in Austria
The TOP Female Founders Summer School offers support to committed students or aspiring entrepreneurs with innovative ideas or mastering healthcare challenges.
The programme links online learning with classroom teaching in Vienna and was developed on the basis of the findings of successful founders. It focuses on the specific obstacles faced by female entrepreneurs. EIT Health Austria, Boehringer Ingelheim and INiTS are Austrian partners of the TOP Female Founders Summer School and thus an important driving force promoting female entrepreneurship. Industry experts from the pharmaceutical sector, academia and healthcare will discuss issues such as identifying needs in healthcare, building up a dynamic team, developing a business model and presenting ideas. EIT Health was established as a Knowledge and Innovation Community (KIC) by the European Institute for Innovation and Technology (EIT) in 2015. More than 80 international applications have already been received.
Female Entrepreneurship
Female Founders – Fund F is a venture capital fund for female startups initiated in 2016 by Nina Wöss and Lisa-Marie Fassl. It particularly focuses on promoting women in the technology-driven startup world. In October of 2022, Nina Wöss and Lisa-Marie Fassl announced the first closing of a € 20 million venture capital fund. Fund F primarily attaches importance to technology startups featuring gender-diverse founder teams from all across Europe. The underlying objective is to support early-stage startups having an impact on society and thus contribute to closing the gender funding gap.
In this regard, the focus is on pre-seed and seed startups working on production and technologies positively impacting humankind. In particular, the fund specialises in the fields of HealthTech, Fintech, ClimateTech and HR Tech.
Fund F is one of the investors in Fermify
Fermify is an Austrian deep technology company developing a completely controlled production platform for casein proteins to empower their customers with the in-house production of vegan cheese products. Fermify is one of the very first startups whose business idea won over the Fund F team.
The company was founded by the vegan food technology entrepreneur Eva Sommer and her former professor Christoph Herwig, a prominent thought leader in bioprocess engineering. "We have very strong demand from various customers and will have to carefully select the first two or three pilot customers that we will start working with, allowing them to be first to the market with economically viable vegan cheese," states Eva Sommer, co-founder and CEO of Fermify.
The company secured € 5 million in a seed funding round led by Climentum Capital. The co-investors include Auxxo Female Catalyst Fund, Fund F, Clima Now, Satgana Ventures, Triple Impact Ventures as well as existing investors such as Übermorgen Ventures, Backbone Ventures, Push Ventures and Simon Capital. What is remarkable is the strong group of female investors involved in this round of financing, namely Dörte Hirschberg from Climentum, who led this round, along with Bettine Schmitz from Auxxo and Nina Wöss from Fund F
Back to main navigation