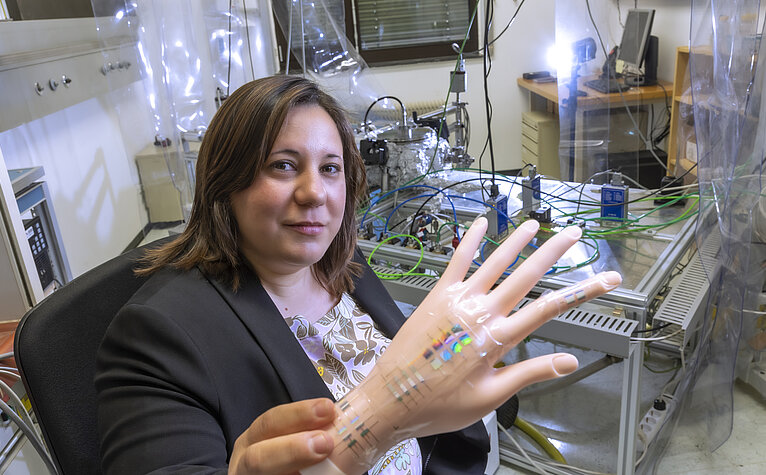 Life Sciences
Research & development
Graz University of Technology researcher gets ERC Proof of Concept Grant
Just a few months ago, Anna Maria Coclite and her team from the Institute of Solid-State Physics at the Graz University of Technology presented the results of their research as part of Coclite's ERC Starting Grant project "SmartCore." They had succeeded in developing the three-in-one "smart skin" hybrid material, which closely resembles human skin by simultaneously sensing pressure, moisture and temperature and converting them into electronic signals. The smart skin has many potential applications, from robotics and aesthetic surgery to prosthetics. The researcher is exploring its practical applications with the ERC Proof of Concept Grant.
European Research Council (ERC) Proof of Concept (PoC) Grants support researchers who have already secured an ERC grant and who now want to test their research results for marketable innovation potential. Starting from the existing prototype of the smart skin, the scientist wants to use the PoC funding to develop the wireless connection of the electronic skin into a real-time monitoring system. This is designed to transmit important data on temperature, humidity and pressure via Bluetooth to a smartphone app that can be used to display the recorded sensory impressions. In turn, this represents a crucial further development of the current electrical readout of the data, which is still wired in an unwieldy manner, and comprises an important step towards making the smart skin advantages presentable to potential customers. Industrial partners, including robot manufacturers, prosthetics companies and medical device producers, are to be involved in the further development of the smart skin at an early stage so that their requirements can be taken into account accordingly.
Anna Maria Coclite was the first woman to receive an ERC grant at the Graz University of Technology in 2016. Now she is the first researcher ever to win an ERC Proof of Concept grant at the university. PoC grants from the European Research Council are endowed with € 150,000 for a maximum of 18 months. The research company Joanneum Research, which holds the patent for smart skin together with the Graz University of Technology, remains an important research partner in the proof-of-concept project.
 
Back to main navigation