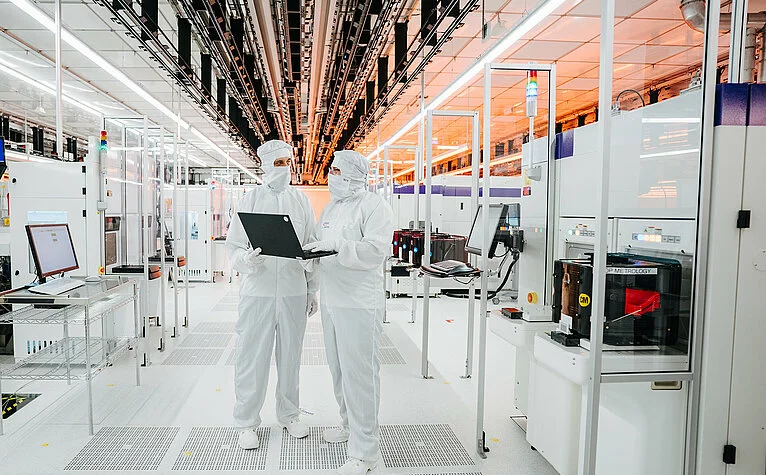 Success story
Research & development
Infineon Technologies Austria spent € 516 million on research in 2021
With a staff of 4,820 employees from 73 nations, of whom 2,100 are involved in research and development, Infineon Technologies Austria generated revenue of about € 3.9 billion in the 2021 fiscal year.
The facility in Villach, Carinthia, is home to the competence centrre for contactless technologies, silicon carbide and gallium nitride as well as part of the headquarters for industrial electronics. The research facilities in Villach include a development centre for microelectronics and a global competence centre for power electronics and new types of semiconductor materials. The mission is to combine all this research in order to conceive the most energy-efficient chips possible.
A development centre for high-frequency semiconductor components is located in Linz. These components are primarily used in driver assistance systems and radar technologies. The facility in Graz set up in 1998 is the global competence centre in the Infineon Group for contactless technologies, and has also been upgraded to operate as the competence centre for industrial microcontrollers since the year 2021. 
In addition to components for optical distance measurement in vehicles and 3D image sensor chips,  the research complex also designs Near Field Communication (NFC) chips for secure data transmission at a short distance. The NFC technology is used for simple and secure contactless payment transactions, amongst other applications. Such a chip is integrated into just about every ATM or credit card as well as in most next-generation smart phones.
Back to main navigation