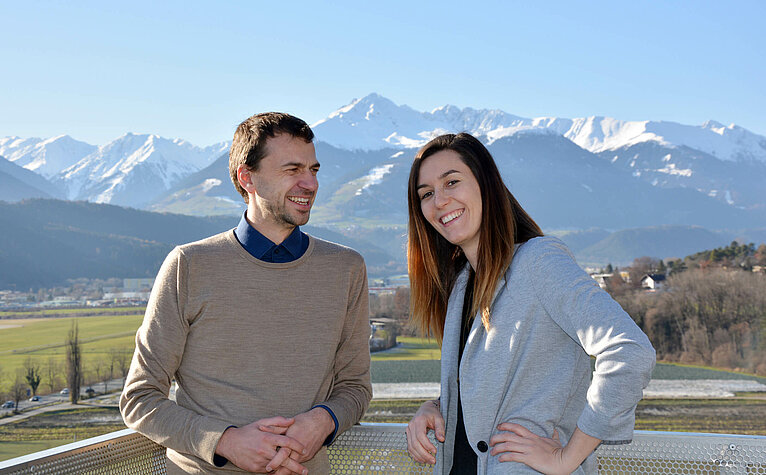 Innovation and digitalisation
Research & development
Tyrolean quantum computers for aerospace
The Tyrolean company Parity QC has been selected to participate in a large contract order worth € 208 million and should help to build quantum computers in the future as part of a European consortium. Numerous research groups across the globe are involved in planning and building quantum computers. A real race has flared up, according to ParityQC co-founders Magdalena Hauser and Wolfgang Lechner. The underlying objective is to solve certain computing tasks more quickly than conventional computers with the help of quantum phenomena.
"The aim is to build a quantum computer of relevance to industry which will not only solve academic but also actual problems," says co-founder Wolfgang Lechner. "Quantum computers will function much more quickly and efficiently than traditional computers, for example when it comes to designing medicines, converting production lines or combatting climate change." In October, the Austrian physicist Anton Zeilinger was given the Nobel Prize in honour of his work in the field of quantum physics.
Developing a standard for quantum computers

Close to 45 employees are currently working in the Tyrolean capital city of Innsbruck to further develop the right strategy. This involves a special approach towards constructing quantum computers which the company would like to establish as a future standard. Parity QC will not supply any hardware for the quantum computers but construction plans, algorithms and operating systems instead, states Lechner, who also works at the Institute for Theoretical Physics at the University of Innsbruck in addition to her work for the "quantum architecture company" Parity QC. The foundations were created and patented as the result of many years of research work carried out by Lechner and her colleagues Philipp Hauke and Peter Zoller in Innsbruck.
Europe should not fall behind in commercially realising quantum computers

Austria and Europe are in a good starting position when it comes to the global race to develop quantum computers enabling solutions to real-life issues relevant to industry. This is due to the ground-breaking basic research being conducted, for example by Zoller, as well as by Rainer Blatt, who also works in Innsbruck, alongside Anton Zeilinger, winner of the Nobel Prize in Physics. However, when it comes to the commercial realisation, Europe lags behind the USA and China, co-founder Hauser adds. The contract awarded by the German Aerospace Centre (DLR) could end up being a kind of impetus for Europe in this field.
Back to main navigation