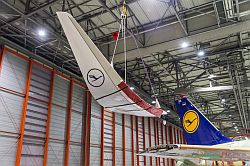 © (c) Lufthansa / Airbus
For example, the fuselage of an Airbus A380 features more than 10,000 such holes. The partners in the international project "H-Scan" are the aircraft manufacturer FACC and Airbus. 
Carbon, the material commonly used in the aviation industry, is extremely light, but quickly becomes frayed when holes are drilled. Checking this is only possible manually at the present time, according to Profactor. There is no feasible inspection system for the inner walls of aircraft, in which there are frequently long bore ducts with a length of several centimeters.   
Profactor is now working on a system which calculates on the basis of pictures taken by an endoscope camera whether the interior walls of the bore ducts are in order. The aim of the project is to develop a prototype for production with the industrial partner FACC.