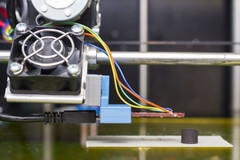 © Technical University Vienna
However, the Christian-Doppler (CD) Laboratory "Advanced Magnetic Sensing and Materials" at the Vienna University of Technology has now successed in producing complexly formed magnets using a 3D printer.
The magnets are designed on a computer and optimized until the magnetic field fulfills all desired requirements. If the magnets are made via an injection molding process, this requires the creation of a special mold which is very time-consuming and expensive for the production of small quantities. The researchers in Vienna have developed a magnet printer. They utilize a conventional, low-priced 3D printer and specially produced filaments of magnetic micro granulate held together by a polymer binding material. The material is heated in the printer and applied point by point in the desired locations using a nozzle. In this way a three-dimensional object is created composed of about 90% magnetic material and 10% plastic. The magnet designs created on the computer can be implemented by the 3D printer with an accuracy of well under one millimeter.
Service: http://dx.doi.org/10.1063/1.4964856