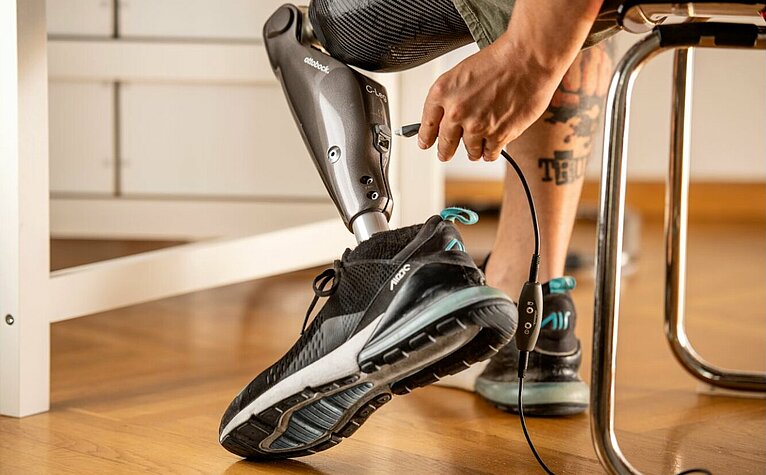 Success story
Life Sciences
Ottobock – Excellently educated research and development specialists
After an amputation, the nerves remaining in the stump control the remaining muscles. From these signals, an artificial intelligence sends movement commands for a prothesis. The better this controller works, the more a prosthesis is perceived as actually belonging to the body. This is one example of innovation Made in Austria, showcasing how the cooperation between a company and a research institution drives scientific successes. In turn, this has a direct positive impact on the users. 
 
The excellently educated research and development specialists represented a good argument in favour of locating in Austria. The country puts great emphasis on innovation and is in very good shape in an international comparison. This has enhanced the attractiveness of the business location.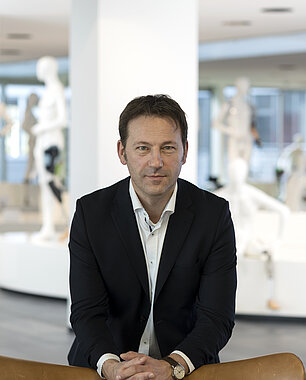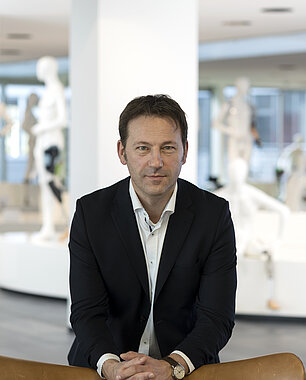 Questions posed to Arne Jörn, COO and CTO at Ottobock HealthCare GmbH  
You have built up a strong and extremely successful presence in Austria, which does credit to the business location. What do you consider to be the strengths of the Austrian life sciences location and what is its unique selling proposition? 
Vienna is home to a significant part of Ottobock's research and development activities. We have R&D teams in Salt Lake City as well as in the Bay Area, Berlin, Duderstadt and the town of Königsee. Our activities in Vienna are unique. Our researchers work closely together with Viennese research institutions and universities on the prosthetics and orthotics of the future. The Vienna University of Technology, the University of Applied Sciences Technikum Wien and the Medical University of Vienna as well as other renowned local partners are driving international research from Vienna. The extensive facilities and good production depth of our Ottobock site in Vienna comprise another competitive advantage. Innovative ideas can be developed locally, whereas prototypes are built in our workshops and tested with users and therapists. Our longstanding and experienced engineers, programmers and electrical engineers know exactly which ideas can be effectively put into practice and which ones need to be refined. Even the tools we need to build a prototype of a new prosthesis can be produced on site. The accompanying clinical research is closely intertwined with the successes or required modifications of our innovations. This close cooperation across various disciplines and departments enables us to do meaningful work in Vienna, from which users benefit.  
The Austrian business location is a driving force for innovations in the group and one of its growth drivers. Why did Ottobock originally decide for Austria within the context of its internationalisation efforts and why have you successively expanded the facility?  
The entrepreneurial orientation of the Näder family was the basis for attaching great importance to internationalisation at an early stage in the company's history. Last but not least, the family wanted to avoid the political risks arising as a consequence of the East-West conflict. The excellently educated research and development specialists represented a good argument in favour of locating in Austria. The country puts great emphasis on innovation and is in very good shape in an international comparison. This has enhanced the attractiveness of the business location. For example, year after year investments have increased in the crucial sector of medical technology. More than € 14 billion will likely be spent in Austria on R&D in 2022, comprising a year-on-year rise of more than 9%. Research equals 3.26% of the country's gross domestic product. This upward trend has been continuing for years. Our Viennese site has also served as a driving force in our growth story. 
Patrick Mayrhofer is one of your best testimonials. At the 2018 Paralympics in Pyeongchang, he won the silver medal in the banked slalom, was named Europe's Disabled Athlete of the Year in 2015 and won the World Cup several times. And he achieved all of this using the Michelangelo hand developed by Ottobock which he received after his accident. Mayrhofer not only wears the Michelangelo hand but also works in one of the three Ottobock workshops as one of the company's 600 employees in Vienna. How would you rate the quality and motivation of Austrian employees in an international comparison and how important are they for the success of your company? 
We now employ a staff of more than 800 people in Austria and there is a good reason for this. They have an outstanding education and a high level of innovative strength by international standards. This can be measured, amongst other things, by the fact that they have already registered numerous patents and regularly submit innovative ideas within the context of our ideas exchange. In some cases, these ideas transcend their own actual area of work. The employees think globally and in a cross-disciplinary manner, and form networks with other innovators, above and beyond specific departments and even the company itself. Furthermore, we also employ several colleagues in Vienna such as Patrick Mayrhofer who use prostheses themselves. They can directly incorporate their wishes and experiences in the developmental process, which turns out to be extremely valuable feedback for us. As a result, a number of our flagship products have been developed in Vienna. A recent example is the new Kenevo, along with the new C-Leg and Myo Plus TH, an innovative prosthesis for the upper arm controlled by artificial intelligence which will soon be launched on the marketplace. 
Vienna is one of the most important R&D facilities for the mechatronic products of Ottobock. Last year Ottobock Healthcare Products published findings together with Oskar Aszmann of the Medical University of Vienna which were internationally hailed to be "milestones in prosthetics." They enable hand movements just from nerve stimulation. How would you rate the cooperation of business and science in Austria, also in comparison to other countries? 
We have been working together with Prof. Aszmann for close to 20 years and highly value the outstanding achievements from which our users benefit. These include targeted muscle reinnervation, where the nerves remaining in the stump following an amputation are connected with the remaining muscles through an operation. In this way myoelectric hand prostheses can be controlled much more effectively because they can rely on more muscle signals. An artificial intelligence transforms these signals into movement commands for the prosthesis. The better this controller works, the more a prosthesis is perceived as belonging to the body - and the more our users succeed in improving their quality of life. This is one example of innovation Made in Austria, namely how the cooperation between a company and a research institution drives scientific successes, which in turn have a direct positive impact on the users. 
What other underlying conditions in the Austrian business location are crucial to Ottobock's success? 
Austria attaches great importance to innovation, particularly digital innovations. This suits us just fine in our capacity as a health tech company with a digital focus in prosthetics. The strong research community consisting of globally recognised research institutions, universities and clinics is crucial in helping us push ahead with our research, development and production in Vienna. Ottobock's mechatronic prostheses and orthoses require the precision and robustness of mechatronic components in order to reliably preserve the mobility of the wearers. Specialised manufacturing partners are necessary for this purpose. In addition to the production competence within the company, Ottobock also relies on longstanding partners and specialists in close proximity to its Viennese facility.  
Let us take a look at the issue of funding, for example the research tax credit. To what extent does this influence decisions made by Ottobock to invest in the business location of Austria? 
From the company's perspective, R&D investments are doubly worthwhile whenever research is promoted and valued. In addition to funding, the fact that Austria creates a fertile innovation climate is reflected in Austria's total R&D expenditures. The overall estimate of Statistics Austria showed € 12.143 billion in R&D spending in 2021, the equivalent of a research ratio of 3.23% of GDP. The research ratio in 2022 is 3.26% and is expected to rise even further. 
From your point of view, how has the Austrian business location changed over the years? What has improved and what do you think was better in the past? 
Ottobock, which was founded in Berlin in 1919, has been represented by a large facility in Austria since 1969. In recent times a real innovation boom has been perceptible in Austria. For example, just take the recent news that Austrian startups raised more fresh capital in 2021 than ever before, or almost five times the comparable amount in 2020. For Austria and for Ottobock, one can say that tradition meets disruption. 
Were there any particularly formative or significant events, turning points or personal experiences in the corporate history of the Austrian facility which you vividly remember? 
In fact, there are several. First and foremost, let me mention the C-Leg, the very first microprocessor-controlled knee joint to be mass produced. The C-Leg enabled us to introduce a new dimension of walking for people whose thighs were amputated. This represents a milestone in prosthetics which clearly focuses on the people themselves. They no longer have to think about every step and gain enhanced flexibility. After 100,000 users and numerous studies, the C-Leg is justifiably considered to be the gold standard in the world of prosthetics. The Canadian engineer and inventor Kelly James presented his prototype of the C-Leg at the World Congress of the International Society for Prosthetics & Orthotics in Chicago in 1992. At this event, Prof. Hans Georg Näder, who has been the head of Ottobock in the third generation, became aware of this innovation. He concluded an exclusive contract with Mr. James right on the spot. In the following years, Ottobock further developed the C-Leg in Vienna so that it could be subsequently mass produced. Dr. Hans Dietl played a leading role in its further technological development. As the development manager in Vienna at that time, Dietl successfully advanced this innovation to market maturity. For the first time, the C-Leg could record environmental data with the help of a small computer and automatically make the right adjustments. This proved to be a milestone for people with leg amputations.  
Could you briefly list the most important milestones with respect to Ottobock's activities in Austria?  
Our researchers, developers, programmers and designers have a particularly creative working environment in Vienna. People from different departments work together on projects in order to develop innovations. Accordingly, our research and development in Austria has changed the world of international prosthetics and set new standards. At the beginning of May 2022, we launched the fifth version of the C-Leg on the marketplace. Our Austrian developers also enabled this to happen on the basis of their innovations. The milestones of our Viennese R&D teams include innovations such as the Kenevo leg prosthesis for the elderly and less active people, the Genium X3 for the highly active and the revolutionary mechatronic C-Brace orthoses for users with paralysis. Another innovation is the bebionic, multi-articulating prosthesis with Myo Plus pattern recognition i.e., artificial hands controlled by artificial intelligence which can be moved through "mind control" with muscle impulses. Now we have managed for the first time to enable Myo Plus to function for people whose upper arms were amputated. The invention will be rolled out in a timely manner. These are all just a selection of our Viennese innovations.  
What are the next steps which Ottobock plans for Austria? Can you already tell us anything about this today?  
An important issue will be sensitive prostheses which function on the basis of sensomotoric feedback as well as quantum sensors in prosthetics. Our R&D is already active in such projects. Generally, the focus is on our vision of making a prosthesis more strongly perceived by the wearer's body as a body part. 
Do you have any wishes with respect to the Austrian business location or Austrian Business Agency? 
Similar to the situation in Germany, there is also an enormous shortage of skilled employees in the digital segment. We would like more qualified young IT professionals in order to be able to press ahead with innovations, as well as more women who apply for such jobs. Generally speaking, it would be nice to become more diverse, because different perspectives always contribute to disruption and innovation.
How has ABA supported you? 
ABA knows everything and everyone concerning business in Austria! 
And finally, one last question: what do you personally value the most about Austria? 
Austria is centrally located in Europe and close to Eastern Europe, where a lot is happening at the present time, especially in the digital sector. In my role as COO and CTO, I value the high level of innovative strength here – and privately Vienna's snide humour!

Otto Bock Healthcare Products GmbH
Ottobock ist seit mehr als 50 Jahren in Österreich tätig. Das Unternehmen ist Weltmarktführer im Bereich Prothetik und einer der führenden Anbieter in der Orthetik und bei Human Mobility (Rollstuhlbereich) – auch und gerade wegen der Innovationen aus Wien. Die Zahl der Mitarbeiter:innen in Österreich ist mittlerweile auf 800 angestiegen. 
Back to main navigation