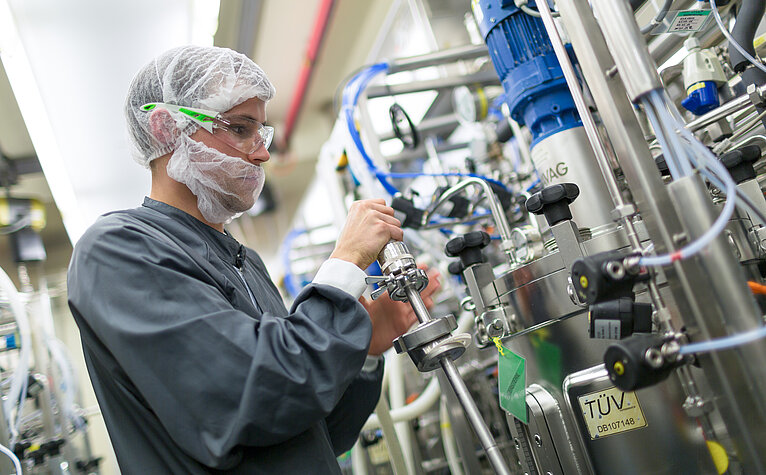 Life Sciences
Success story
Pfizer – relying on the pronounced (natural) scientific know-how of its team in Austria
In 2020, Pfizer succeeded in making a COVID-19 vaccine available in record time together with its partner BioNTech. Pfizer also ranks among the largest pharmaceutical companies in Austria and manufactures about 14.5 million doses of vaccine each year for export to the rest of the world at its production facility in Orth an der Donau.
Compared to other innovative sectors, the life sciences industry is by far the most innovative, features the highest research ratio and makes a significant contribution to national value creation.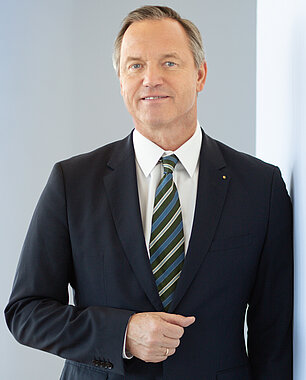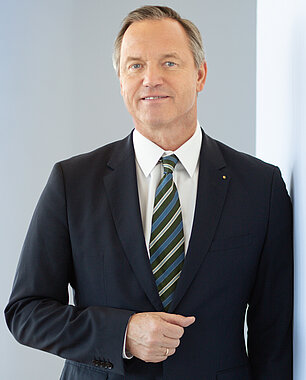 Questions posed to Prof. Robin Rumler, Country Manager Pfizer Corporation Austria 
In order to expand the company's operations, a further € 50 million will be invested to build new laboratories at an international quality control centre for vaccines at the production plant in Orth an der Donau. The new premises will be opened in the course of 2022. What prerequisites does Austria offer as the basis for these future-oriented expansion steps in the heart of Europe? 
Naturally, economic factors and attractive conditions for pharmaceutical production (e.g., the infrastructure) are core criteria impacting the decision to set up sales and production facilities. The long-term collaboration with local medical institutions, universities and stakeholders in the field of healthcare is also of particular importance to us. 
However, the professional qualifications of our local employees are just as crucial for us. In addition to solid scientific expertise and business know-how, we need employees with a high level of commitment, a team spirit and very good communication skills. The latter refers to competencies in English, our corporate language, but even more to the ability to effectively convey the accomplishments of our research activities to our various stakeholders. 
Pfizer is a major economic player. We provide added value to the country as well as secure and attractive jobs. We are proud of all this, and we will continue to act accordingly.  
To what extent has funding such as the research tax credit an impact on Pfizer's investment decisions in Austria? 
We generally welcome measures such as the research tax credit. However, in order to retain, secure and strengthen investments in Austria sustainably and in the long term, what is needed is to create appropriate framework conditions which are more favourable to the Austrian business location in addition to funding measures such as the research tax credit. More specifically, I am talking about promoting clinical research and pharmaceutical production as well as quicker and easier market access, thus ensuring efficient patient care in Austria. 
How would you rate Austria as a life sciences location in an international comparison? 
Compared to other innovative sectors, the life sciences industry is by far the most innovative, features the highest research ratio and makes a significant contribution to national value creation. Nevertheless, it is essential to continuously enhance the attractiveness and appeal of the life sciences location as a means of safeguarding and further expanding it. Industrial policy incentives must be launched to strengthen the production and research location. This includes ensuring the best conditions as well as strong patent legislation.  
There are explicit "pain points" relating to Austria as a research location. We do have a recognised expertise in clinical research but face tough competition in an international context. This is demonstrated by Austrian participation in studies, which has been declining for years. A proactive positioning on the part of political decision makers is urgently needed. We frequently lack the necessary basic resources such as personnel i.e., so-called study nurses or study coordinators. To ensure an optimal environment for clinical studies, it would also be particularly important to make data from daily clinical practice more readily available. The linking of hospital data does not function very well in Austria. Clinical studies can only be conducted successfully in the long term if such prerequisites exist, and if structures are sustainably safeguarded. 
In 2020 Pfizer Corporation Austria was one of the first companies to receive the equalitA seal for the in-house promotion of women. Do you consider such initiatives to be important to counteract the gender pay gap? 
I definitely do! Fairness is one of our fundamental corporate values. Equal career opportunities for all employees are embedded in our globally applicable guidelines. We focus on the promotion of women and equal opportunity, with no ifs or buts. The high proportion of women in management positions at Pfizer is proof of our strong will. Close to 70% of the entire workforce at Pfizer Corporation Austria are women, and female employees comprise almost 50% of those with leadership responsibilities. It should be natural for all companies today to have performance-related and not gender-related remuneration.  
Generally speaking, gender equality, the promotion of women and the compatibility of one's career and family require the constant improvement of the basic conditions prevailing in the company. We established a "fair play team" more than ten yeas ago. This cross-functional group focuses on issues such as parental leave, returning to work, the promotion of health, mentoring and the like.  
From your point of view, how has the Austrian business location changed over the years and decades? What has improved and what do you think was better in the past? 
We are all currently aware of the fact that we have not yet effectively coped with the consequences of the coronavirus pandemic. At the same time, the war in Ukraine is hitting the economy hard and thus threatening the energy supply. This means that the Austrian business location is facing massive challenges. The steps taken by the government in the coming months will be crucial for the future. 
Were there any particularly formative or noteworthy events, turning points or personal experiences in the corporate history of the Austrian facility which you vividly remember? 
In 2020, Pfizer succeeded in making the first COVID-19 vaccine available in record time in collaboration with our partner BioNTech. After months of great exertion, being able to hand over the first vaccine doses was an event I will always remember, and which will rank as one of the personal milestones in my career. 
What are the next steps which Pfizer plans for Austria? Can you already tell us something about this today?  
At the present time there are 90 development programmes in the pipeline i.e., in clinical development at Pfizer. In this regard, we are concentrating on therapeutic areas with particularly high medical needs, for example rare diseases. When it comes to cancer therapy, our focus is on targeted therapies and immunotherapy. Our declared objective is to make 25 new drugs available to patients by the year 2025.  
Do you have any wishes with respect to the Austrian business location or Austrian Business Agency? 
The pandemic has severely tested our healthcare system and is still doing so. However, it also opened up new perspectives and paved the way for innovative developments. In this way, the coronavirus served as an accelerator for digitalisation. The challenge is to continue leveraging this impetus for innovation and further develop the many learnings derived from it. 
How has ABA supported you? 
ABA supported us very effectively by giving us vital information on funding possibilities in Austria and providing us with advice and assistance.  
And finally, one last question: what do you personally value the most about Austria? 
The unparalleled quality of life, particularly in Vienna, as well as stability and security are what particularly make our country stand out. 

Pfizer Corporation Austria GmbH 
The Austrian subsidiary of Pfizer was founded in Vienna in May 1956. At that time Pfizer Austria began operations with a license for an anti-inflammatory drug. In the meantime, the company now has more than 100 drugs in its portfolio. About 40 employees worked at the first Austrian site located on Wipplingerstraße in Vienna in the beginning. Today Pfizer operates two facilities in Austria. Pfizer Corporation Austria GmbH headquartered in Vienna is a sales organisation, distributes prescription drugs and is an important partner of the Austrian healthcare system and for medical research and development. The purchase of the vaccine production in Orth an der Donau in Lower Austria from Baxter at the end of 2014 aroused international interest in its Austrian site. It is now the location of Pfizer Manufacturing Austria GmbH, the company's production plant for two vaccines exported globally. Pfizer employs a staff of 525 people in Austria. 
Back to main navigation