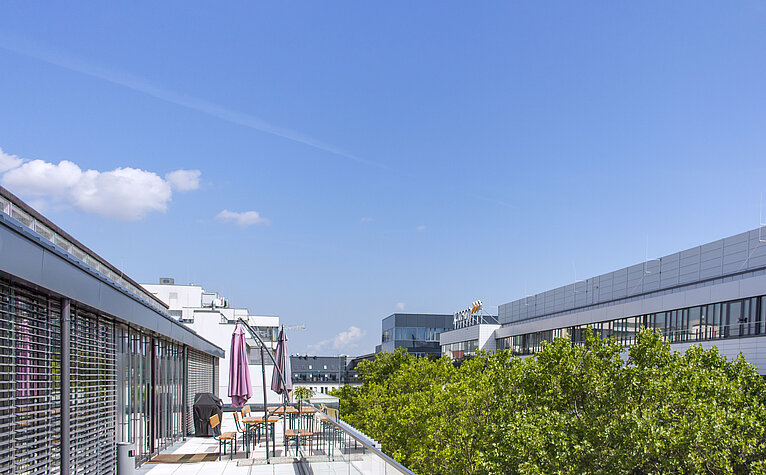 Riedel – Cost efficiency is clearly in Austria's favour
Vienna is the ideal gateway to Southeast and Eastern European markets. At the same time, it is also the company's innovation centre. Two of the three most important product groups of Riedel Communications were developed in Vienna. 
Motivation and productivity are sustainably good at the Viennese site. I would say that less undue pressure is exerted on employees. I am talking about the often-quoted easy-going manner of the Austrians. At the same time, this trait is our winning formula. It promotes creativity and is successful in the long term.
Questions posed to Jürgen Diniz-Malleck, Sales Director Europe, Middle East, Russia at Riedel Communications (at Riedel Communications since 2017) 
Your company is internationally positioned and has a strong and successful foothold in Austria thanks to the subsidiary Riedel Communications in Vienna. What are the strengths of the Austrian business location for your type of development pioneer (digital systems)?  
The business locations of Austria and Vienna stand out due to several factors, in particular the outstanding price-performance ratio in so many respects, also with regard to human resources. In this case, Austria performs very well. Simply speaking, quality and costs are in line with each other. The graduates of higher technical schools are given excellent training within the context of an educational system which is hard to match in Europe. The value for money is perfect, which is also reflected in our development costs. For these reasons, Austria offers extremely attractive framework conditions from a business point of view. 
Which framework conditions in Austria are crucial to the success of Riedel Communications? 
 
We have an extremely international team with employees from Italy, Russia and Hungary, for example. The official language in the company is English. A business location with a high quality of life is a major advantage in our efforts to retain these highly qualified people. Austria and Vienna both stand out in this regard. 
CEE markets can also be served well from here. Austria is a small country, but this turns out to be an advantage. Our contact persons in the CEE countries want to be treated on an equal footing, which can be done more easily from Austria. The geographical proximity is also beneficial. We like to present the development site to our CEE partners and invite them to visit us in Vienna. This is quite convincing, because our technology is then used for a period of ten to fifteen years.  
What role does the Viennese facility play in the international network of the Wuppertal-based parent company? 
Vienna is home to the company's most important development centre. Different people who are involved in the New Year's Concert, the Burgtheater or other events have to coordinate their tasks with each other. For this purpose, they require a technology which is reliable because people's safety is at stake. The development engineers in Vienna play a decisive role in designing suitable products. 
Were there any particularly formative or significant events, turning points or personal experiences in the corporate history of the Austrian facility which you vividly remember? 
Everything started in Austria for us in 1998 with a large-scale project implemented on behalf of the national public service broadcaster ORF and the related acquisition of a small electronics company to handle the business. This comprised a breakthrough project for Riedel Communications in light of the fact that the ORF was an "early adopter." A further development step took place in the year 2007 when we took over the startup MediorNet. This enabled us to integrate a completely new product group into our portfolio, namely video transmission based on fibre optics. 
Internal competition within the Group for a new development project in the field of wireless communication began in 2015. The Austrian facility succeeded in winning this project. The qualified skilled employees proved to be the decisive factor. We managed to find the right employees relatively quickly and subsequently developed the product "Bolero" in Vienna. Riedel recognised at an early stage that not only sales but also product development must be implemented in a decentralised manner, namely where the best minds are located. And Austria happens to be the gateway to Southeast and Eastern Europe for Riedel Communications and thus its CEE headquarters with management responsibility for 17 markets. 
Highly qualified technical specialists are a vital success factor for a company such as yours. How successful have you been in Vienna and Austria in attracting skilled professionals? 
Success is hiring international experts is not a foregone conclusion. We leverage the hub to attract talents from other countries. Vienna rates highly due to its quality of life. The image of the business location lures people to work here. A work-life balance is important to employees, but the underlying conditions are also of significance to them. Just think of the favourably priced annual pass for public transportation in Vienna. 
How would you rate the quality and motivation of Austrian employees in an international comparison? What sets them apart and how important are these qualities for the success of your company? 
Motivation and productivity are sustainably good at the Viennese site. I would say that less undue pressure is exerted on employees. I am talking about the often-quoted easy-going manner of the Austrians. At the same time, this trait is our winning formula. It promotes creativity and is successful in the long term. The feel-good factor is crucial in the struggle for every single employee. On average we require nine to twelve months to fill one vacant position. We also want to retain these people. Much more importance has been attached to the issue of employer branding over the past five years.  
From your point of view, how has the Austrian business location changed over the years? What has improved and what do you think was better in the past? 
The focus on service in Austria has significantly improved. However, research funding - which has increased in recent years - is extremely important for us. The City of Vienna is highly active in this regard. We considered relocating our operations five years ago within the context of our expansion efforts. But the available research funding programmes convinced us to stay, something we have never regretted. 
What are the next steps which Riedel Communications plans for Austria? Can you already tell us anything about this today?  
We are going to adhere to our growth strategy. Riedel Communications Austria has doubled revenue since 2020, an upward trend we will strive to continue. The product development site should expand even further. We plan to increase the number of employees by 20%. 
Do you have any wishes with respect to the Austrian business location or Austrian Business Agency? 
For a small niche company such as Riedel Communications, it is important to be linked to research facilities and political institutions. This is because finding qualified specialists and getting support in searching for them is crucial for us.  
And finally, one last question: what do you personally value the most about Austria? 
I very much appreciate the prevailing cosmopolitan sentiment we have in our professional life in Austria, which enables us to retain international employees at our site. Vienna is a melting pot in the true sense of the term. Furthermore, I value the central location and the hub spirit.  

Riedel Communications Austria GmbH 
Riedel Communications was founded 35 years ago in Wuppertal, Germany by Thomas Riedel. The company has been producing and distributing real-time networks for video, audio, data and communication since 1987 and is a hidden champion in the radio transmission of media productions and live events. Riedel Communications is the market leader in Europe with a share of 80% and employs more than 800 people across the globe. Riedel Communications Austria was established in 1998. In the meantime, it is the second largest office within the international group of companies and features a staff of 40 employees. Austria is home to Riedel's CEE headquarters and innovation centre. The fibre-optic-based MediorNet system for video transmissions as well as Bolero, a wireless intercom system for participants at events or productions, were both developed at the Austrian facility. The company founder Thomas Riedel also has a personal connection to Austria due to the fact that his mother was born in Bregenz in the federal province of Vorarlberg.  
Back to main navigation