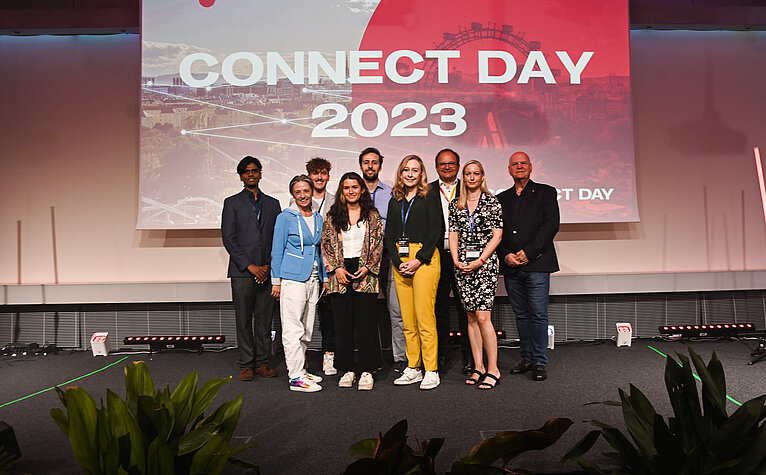 Establishment, law & taxes
Connect Day sets new records
The Connect Day held within the context of ViennaUp'23 set new records. The largest event of ViennaUp'23 was successfully staged, featuring more than 200 investors on site and about 1,500 matchmaking meetings.
Keynote speakers attracted a wide audience on future-oriented topics such as GreenTech, artificial intelligence and startup trends. This year the highlights of the Connect Day were the high-quality pitching sessions. Highlights were the sessions organised by the Global Incubator Network (GIN Austria) for international startups or the already established Corporate Reverse Pitch, organised by aws Connect, the matching services of aws (promotional bank of the Austrian federal government) in cooperation with INVEST in AUSTRIA and EIT Manufacturing. This year companies such as A1 Telekom, AVL, BOSCH, Borealis and Microsoft presented their innovation needs to the startups attending the event.
Bosch Innovation Manager Stanish Gunasekaran presented innovation challenges from the mobility environment: "With the digital.auto initiative, we are looking for innovative detection solutions inside vehicles, among other things, and in the area of decentralized Web3 solutions we are developing new or better services." In order to advance topics in the field of AIoT, Bosch is open to collaborations, says also Dr. Gottfried Fuchs from the Public Funding and Innovation department at Bosch. Together, the two held talks on the challenges as well as Bosch Services in the area of innovation and entry-level opportunities at Bosch
Moreover, special emphasis was put this time around on networking with investors. More than 200 investors attended the aws i2 Business Angel Pitch Session. Other items on the agenda included the Global Incubator Venture Capital Dinner and the Viennese breakfast for investors powered by invest.austria.
Connect Day 2023 was organised by aws in cooperation with Global Incubator Network Austria (GIN, managed by aws and FFG), the Austrian Research Promotion Agency FFG, the Vienna Business Agency, Aussenwirtschaft Austria (the Foreign Trade Promotion Organisation of the Austrian Economy) and the Austrian Business Agency (ABA).
More impressions of Connect Day 2023 were captured by Trending Topics in this aftermovie
Back to main navigation