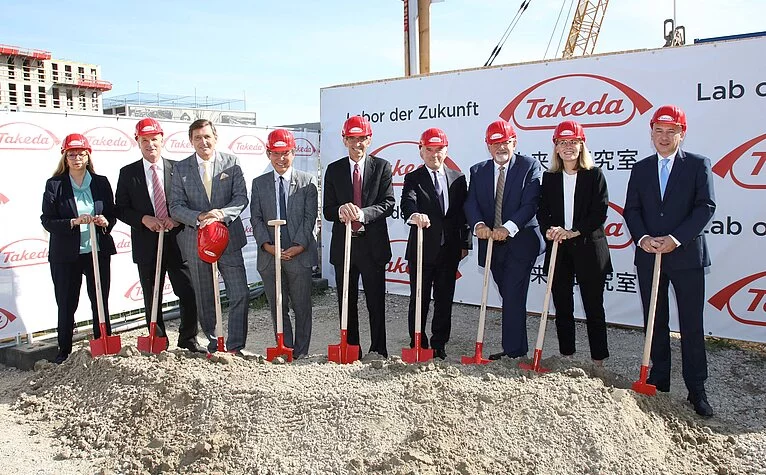 Life Sciences
Success story
Research & development
News
Global Player Takeda is building a research and development laboratory in Vienna Donaustadt
The globally operating company headquartered in Japan is investing a three-digit million Euro amount in a technically and ecologically optimised new building for biopharmaceutical research and development in Vienna's Seestadt Aspern region.  This is the largest investment in research and development to date by the company in Austria, which has been operating in Vienna for almost 70 years. Starting in 2026, around 250 researchers will be working at this new site on innovative new therapies for diseases for which no or only insufficient treatment options exist. The Group with its 4,500 employees in Austria is also investing approx. € 100 million in Linz, as Takeda first announced in May 2023.
Andy Plump, President of Takeda's global Research & Development Division, attended the ceremonial groundbreaking and explains why this building will be a "lab of the future": "Our "Lab of the Future" in Vienna will include modern technologies and innovative systems that will support our scientists in developing transformative therapeutics for patients around the world while achieving sustainability for our planet. This project also represents a clear commitment by Takeda to Austria as a critical site for our innovative research and development efforts."
Dr. Manfred Rieger, Site Head and Managing Director of Takeda's Research & Development Division in Austria, states: "I am particularly pleased that we are now taking the next step after the planning phase. In our new building, we will be able to make even better use of our many years of knowledge and experience to develop innovative therapeutics – from the selection of a product candidate, through the preclinical and clinical phases, and all the way to approval. The new laboratory will also provide a platform for collaborations and partnerships with leading scientific institutions and research organizations. By sharing expertise and resources, Takeda aims to foster collaboration with the scientific community, thereby driving progress for the benefit of all patients."
Takeda covers the entire value chain in Austria
4,500 employees at sites in Vienna, Linz and Orth an der Donau are already conducting research on gene therapies, recombinant proteins and innovative technologies on behalf of Takeda.  The entire value chain is covered in Austria – from R&D and production facilities located in Vienna, Linz and Orth to twelve plasma centres throughout the country.
In May 2023, Takeda announced that it would invest about € 100 million in its Linz-based plant by the year 2025, thus further strengthening its long-term focus on manufacturing biologics. The site is considered to be the centre for prefilled syringes and medicines for self-administration in the field of biologics within Takeda's global production network.
Back to main navigation