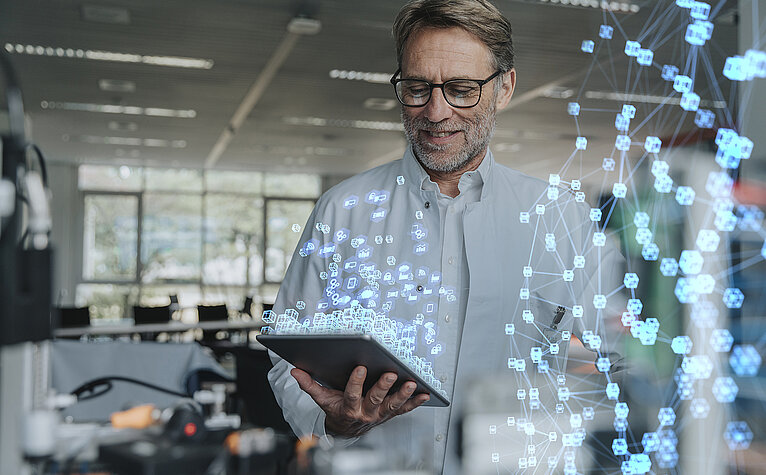 Innovation and digitalisation
Research & development
360° Certification for Artificial Intelligence
by Know-Center GmbH
A new initiative for trustworthy artificial intelligence (AI) was launched in Styria. Within the context of a strategic partnership, the Know-Center, SGS, the Graz University of Technology and the University of Graz will research and develop efficient and independent test methods and testing technologies for AI systems.
Artificial intelligence is a key technology to safeguard the future viability of the economy and society and ranks among the fastest-growing areas of interest. However, it can have undesired and very negative effects if they are not appropriately used. Examples are prejudices in connection with human resources processes or uncertain recommendations on the part of an AI in the field of healthcare. The potential of AI will only be exploited if the trustworthiness of data handling as well as fairness and reliability of the algorithms and their security are ensured.
The European Commission plans to issue a directive regulating AI systems in the future in order to provide guidelines to companies and support them in risk management. A comprehensive conformity assessment by suppliers is planned, making an AI certification absolutely essential. However, the planned regulation could overwhelm companies and slow down the widespread use of AI in the economy.

Independent test and certification of AI solutions


Renowned research institutions and firms in the federal province of Styria have now come together to support companies in developing competitive and trustworthy AI-based products and systems. Within the context of the "Trust your AI" initiative, a 360° perspective should ensure that AI applications function in a technically compliant, reliable and unbiased manner. The initiators are the Know-Center, a leading European research centre for data-driven business and artificial intelligence, the SCG Group, the world's leading provider of testing, verification and certification and the Institute for Information Processing and Communication Technology of the Graz University of Technology, one of the leading cybersecurity research teams. Ethical and legal aspects will be taken integrated via the Business Analytics and Data Science Centre of the University of Graz, and Austria's Centre for Secure Information Technology (A-SIT) will support the activities carried out as a neutral observer. This bundled expertise is the basis for incorporating all areas essential for the high quality and trustworthiness of AI, namely data, algorithms, cybersecurity, processes, ethics and law.
Open for partnerships


Energie Steiermark AG, Leftshift One, NXP and Redwave will also participate in the project with use cases. The initiative is open to further partners from industry and science which are interested in working together on AI testing methods. The extensive international partner network of the Know-Center also ensures that research will continually be state-of-the-art as well as the continuous further development of testing tools and methods.

Back to main navigation