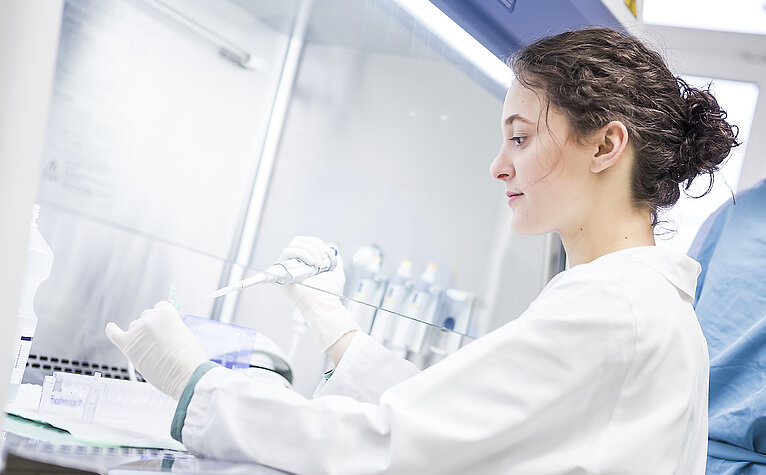 Innovation and digitalisation
Life Sciences
Food Tech: Trends and developments in Austria
Food Tech aims to convert the food sector into a sustainable and transparent system on the basis of technological innovations. Valuable fibres instead of sugar in sweets and alternatives to meat from the 3D printer are among the innovative ideas continuously being developed by new food startups. They are hitting the ground running on the Austrian market.
Austrian food and beverage industry in general
On balance, the Austrian food sector consists of 3,500 companies, alongside 670 firms involved in producing beverages. In 2021, the Austrian food sector generated a 6% overall revenue increase and beverage production was even up by 14%. Accordingly, the food industry is a very crucial and growing sector of the Austrian economy.
What is Food Tech?
Food Tech links the technology sector with the food industry. At the same time, it is much more than that. What exactly does this concept mean?
Definition of Food Tech 
Food Tech impacts the entire food value chain. It begins with agricultural cultivation or the production of food and extends to agricultural trade and transport, the processing industry and food retailing to consumers themselves.  
Food Tech ecosystem
Food Tech is considered to be a separate ecosystem comprising all companies and startups developing innovations in the food sector. As a result, companies and startups have a very broad-based field of activity which is usually divided into six different areas:
1. AgTech
Companies operating in the field of AgTech work on innovations to improve agricultural output as well as quality. Typical technological aids used by AgTech firms are drones, sensors and farm management software, amongst others.
2. Food Science
In the field of food science, startups are developing new ingredients and products for the food industry. The aim of many food science startups is to develop sustainable alternatives to conventional or traditional foods. 
3. Food Service
Food service startups are firms which improve restaurant management processes by means of technical innovations. Examples are Cloud cakes for the production of delivery-friendly dishes or a menu planning and merchandise management platform for the catering industry.
4. Consumer Tech
The Consumer Tech category encompasses startups developing services and devices for end users in order to help people eat healthy diets. Players in this field focus on the issue of which food and beverages are actually good for consumers.  
5. Delivery
Companies developing services relating to ordering and delivering food and meals are assigned to the Delivery category. Food delivery goes above and beyond order and delivery platforms linking restaurants with consumers. Innovative solutions offering drones or robots to deliver food are just as much a part of food delivery as food boxes which regularly supply customers with ingredients for certain dishes. E-commerce solutions which, for example, create pathways to bring food directly from farms to consumers are part of the Delivery category.
6. Retail
The retail food sector comprises a very large part of the entire food supply chain. In this field, startups develop solutions for a more efficient and sustainable design of retail operations. These include sustainable packaging or effective food waste management.
Food Tech in Austria
Food Tech is a strong trend and is considered to be a very promising future-oriented sector in which many  Austrian startups already operate successfully.
Innovative food startups from Austria
Food Tech Austria currently consists of about 50 startups (March 2023). The following three examples show how diverse the Food Tech scene in Austria is: 
The Austrian startup focuses on the production of plant-based fish alternatives using 3D printing.
The microdrinks of this Viennese startup are revolutionising the beverage market.
The Vienna-based startup is considered to be a pioneer in breeding insects as an alternative source of protein.  
Founding a food startup: Funding in Austria
Many startups rely on support to help them develop and realise their innovative ideas. Austria offers numerous funding options for food startups:  
Austria Wirtschaftsservice:
Austrian Research Promotion Agency (FFG):
Startup Package of the FFG (Innovation Voucher, Patent.Voucher, Impact Innovation, Projekt.Start, Markt.Start)
Reasons for locating in Austria
The Austrian startup scene has emerged as a dynamic market which is of major importance to Austria's economic growth. At the same time, the food and beverage sector in Austria is a growing industry which still has a lot of room for food innovations and technological trends. Alongside the many different types of funding possibilities and support networks, Austria is an ideal business location to set up food startups. Moreover, Austria is a centrally located EU member state with high purchasing power and also serves as a test market for the entire DACH region.  
Food Tech trends
Consumers are searching for food which is not only healthy but also sustainable. Above all, factors such as regionality, traceability and environmental awareness dominate current Food Tech trends.
Top 5 Food Tech trends 2023 & Startups
1. Recycling of food waste
A large portion of edible foodstuffs end up in the garbage. An increasing number of startups are focusing their efforts against this food waste and developing business ideas to save or further process food.
"Too Good To Go" is an App enabling consumers can pick up products from nearby supermarkets, petrol stations and other firms.  
2. In-vitro meat
In-Vitro meat and thus laboratory-grown meat is designed to enable people to consume meat without the need for animals to suffer and is thus called clean meat.
"Mosa Meat" is a startup founded in the Netherlands which produces clean meat from the cell growth of cows.  
3. Plant-based meat substitutes
Alternatives to eating meat which are not only healthier but also go easy on the environment have been in vogue for many years. At the same time, the products should taste like meat and have a similar texture.
The American company "Beyond Meat" already dared to create meatless burger patties bac in 2009.
4. Indoor farming
Indoor farming enables the cultivation of crops in the agricultural sector all year long but without siphoning off resources. The cultivation of food takes place in closed systems under artificial light. Other trends in this field include vertical farming and urban farming.
For example, the company "Infarm" founded in Berlin in 2013 delivers biological herbs and vegetables to restaurants and retail stores.
5. Food safety and transparency
Consumers attach great importance to high quality food. At the same time, they also want to know where the food comes from. However, the supply chain in the food industry is frequently very long. In order to enable traceability, transparency and safety, several companies make use of blockchain technology.
The French startup "Qualizy" developed an App enabling restaurants and companies in the food industry to optimise their processes designed to record food safety.
Food fairs
The trade fair landscape in the food sector is very diversified and range from the bio-food sector to the packaging industry. FoodTech is also represented at German language trade fairs:
We simply get it done – for you!

Do you operate in the food tech sector? Are you looking for the perfect location and valuable partners for your company?
Then you have come to the right place in Austria!

Back to main navigation