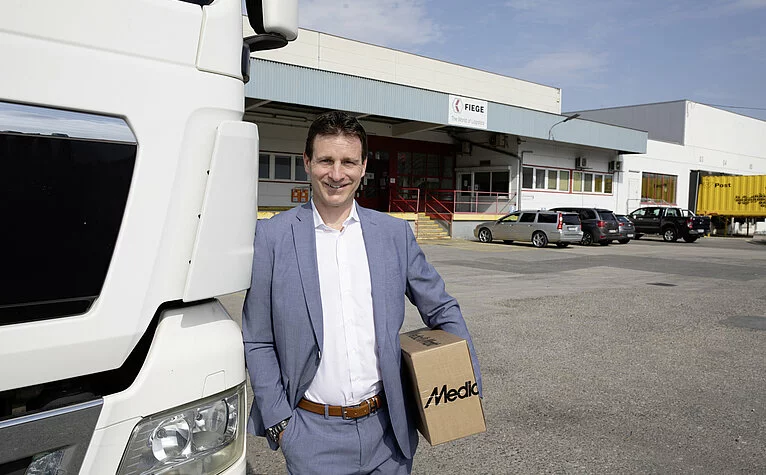 Location advantages
Success story
Fiege – Optimal logistics from the Vienna City Centre to the Silk Road
Austria is an ideal gateway to Eastern Europe for logistics companies like FIEGE and to important markets such as Italy and Germany thanks to its central geographical location. In addition to locational advantages such as a modern infrastructure and the inner-city site in the Austrian capital of Vienna, the dynamic development of online retailing and the increasing need for decentralised storage facilities in close market proximity are driving the company's expansion at its Austrian facility.
We are only six kilometres as the crow flies from the centre of Vienna, and less than 500 metres away from our first delivery addresses. All this comprises a perfect logistical mix!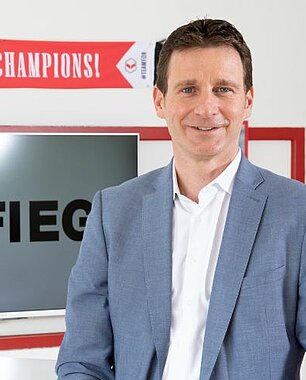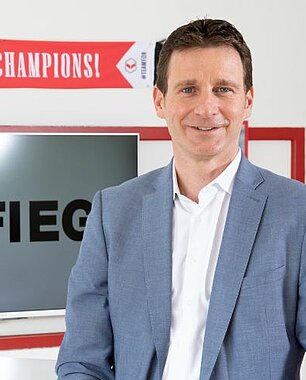 Questions posed to Michael Jahn, Managing Director of FIEGE Austria.
What were the reasons for FIEGE's expansion to Austria 25 years ago?
Michael Jahn: As the market leader in the field of contract logistics, FIEGE was already represented in numerous European countries, and Austria was traditionally an important export market for many of our customers. In addition to the favourable business development, there was also an increasing need at that time to establish decentralised storage facilities in close proximity to the markets. Above all, it was important to have a strong presence in Austria due to our expansion into the CEE region and Italy.
FIEGE has now been successful in Austria for 25 years. What do you consider to be the strengths of the Austrian business location for your type of logistics company?
We consider the central geographical positioning and the outstanding infrastructure to be Austria's main strengths. Austria is situated in the heart of Europe and offers excellent links to Eastern Europe and to the important economies of Italy and Germany. Austria's location is certainly a significant competitive advantage which will also play an important role in the future, also for FIEGE Austria. Vienna Airport located close to our facility as well as the direct rail connections from the Silk Road to Vienna are also worth mentioning when it comes to the international flow of goods.
Your company plans a substantial expansion of its business operations in Austria this year. Can you tell us more about this?
In essence, one can say that we grow with our customers. The expansion drive at our facility in Vienna is mainly related to the dynamic development of the e-commerce segment. We are currently witnessing an incredible growth phase in online retailing. At the same time, the economy is struggling to deal with supply problems and resource shortfalls. In turn, this is leading many companies to relocate production activities closer to their sales markets and rely on the greater range of their warehouse inventories.
Which conditions are particularly important in light of this development?
Connections to the logistical transport network are of major importance to us. This enables us to guarantee short delivery times as well as offer customers an optimised flow of goods in procurement and distribution. For this purpose, a modern transport infrastructure is required, and sustainable cargo transport routes such as the railways are becoming increasingly crucial. A direct railway connection on our premises provides an optimal basis for our operations.
Is there a unique selling proposition which only Austria offers?
Definitely. The inner-city location in Vienna is clearly an advantage. From a logistics perspective, this is a major USP and is almost unique compared to other large cities. Accordingly, we can work on a 24/7 basis. Concerning the availability of human resources, we benefit from the outstanding public transport network in Vienna. We are only six kilometres as the crow flies from the centre of Vienna, and less than 500 metres away from our first delivery addresses. All this comprises a perfect logistical mix!
FIEGE Austria has also been involved in fashion logistics for some years now. What do you particularly offer customers in this industry?
Our fashion services encompass the entire supply chain, from the delivery of products from all over the world and supplying B2B and B2C recipients in Europe to processing returns.
You employ about 100 people in Vienna. How would you rate the quality and motivation of Austrian employees in an international comparison and how important is this for the company?
Employees comprise the heart and soul of every service company! We are proud of the fact that we have employees in our ranks who have been with us since the subsidiary was founded 25 years ago. I think this reflects the extensive loyalty and identification of these people with our company. They are the foundation for the quality and productivity of the Austrian facility in an international, intercompany comparison.
Were there any formative events or turning points during FIEGE's 25 years of operating in Austria?
Of course, one milestone was winning the contract in 2010 to handle shipping for what has become one of Austria's largest online shops. At that time, we began with just a few square metres and less than one hundred parcels per day. Today we are responsible for more than 500,000 parcels annually for this customer and offer close to 10,000 square metres of space.
What was better or worse 25 years ago compared to today?
Business 25 years ago was less dynamic and fast-paced by far. This dynamic development offers enormous opportunities and growth potential but also requires a high level of planning flexibility. Moreover, simplified communications resulting from ongoing digitalisation enable a much greater degree of transparency in logistics chains today.
Do you have any wishes with respect to the Austrian business location or Austrian Business Agency?
It would be advantageous to continue our tried and tested partnership as we have done up until now.
How did Austrian Business Agency support FIEGE in setting up the subsidiary and in implementing its current expansion programme?
At that time, we decided to acquire a commercial property in close proximity to the City of Vienna in order to be able to expand our medium-term capacities. ABA optimally supported us during the negotiations and in completing the purchase transaction. We feel that we are continually being well served thanks to the invitations we receive from ABA to various calls for funding which positively impact our business development. With respect to our latest new building project, ABA also provides advice and targetedly informs us about offers, funding and benefits which could be of interest to us.
What do you personally value the most about Austria?
In addition to the outstanding business environment for companies, one can also take advantage of the beautiful countryside and diverse landscapes combined with the most liveable cities in the world.

FIEGE Logistik Stiftung & Co. KG

The family-owned German company FIEGE is one of the leading logistics providers in Europe, employing a workforce of 20,000 people across the globe. This year its Austrian subsidiary commemorates its 25th anniversary and is expanding its business operations in Vienna.
Back to main navigation