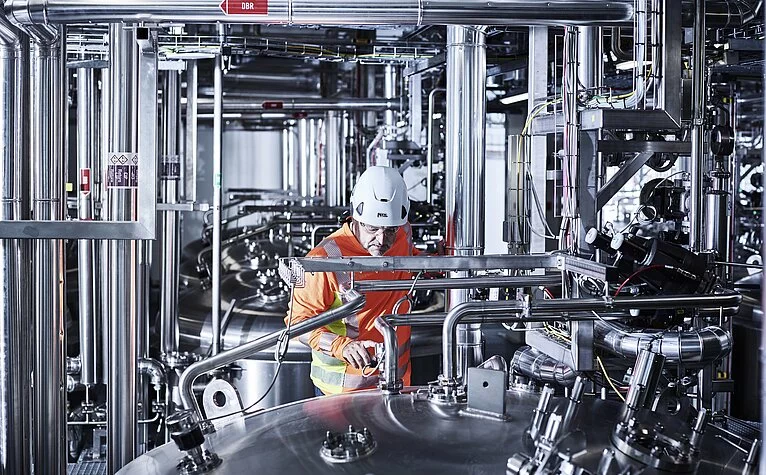 Life Sciences
Success story
Novartis Austria – "The largest and most innovative site to manufacture Novartis biopharmaceuticals is in Austria"
The Novartis plant in Tyrol is the last fully integrated antibiotic production facility in the entire Western world. The beginning of business operations in Austria already took place in 1946 with the production of penicillin, which was urgently needed at that time. Today Novelis Austria is a central development and manufacturing location within the Novartis Group and employs people from 50 countries. Recently the facility began producing nucleic acids for cell and gene therapies. 
What has happened at the Kundl/Schaftenau location is really impressive. Of course, the most important factor underlying this success story has been our employees. Their hard work and expertise have made all these successes possible and comprise the basis for the innovative spirit of our site - then as now!
Questions posed to Mario Riesner, Managing Director Novartis Campus Kundl/Schaftenau 
Novartis has had an incredible success story in Austria. From your point of view, what factors have enabled this developed in Austria? 
Without doubt, a variety of factors have accounted for the unique success story of Novartis in Austria, which dates back to the year 1946. At that time, a former brewery was converted into a penicillin factory. The next breakthrough took place in 1952, when the first acid-resistant penicillin could be administered to people in the form of tablets. The launch of operations in the field of modern biotechnology (biosimilars, biopharmaceuticals) in 1955 represents a further important milestone in the history of Novartis in Austria. It was made possible by decades of biotech expertise at the site. 
In 2020, another major investment project was launched. More than € 150 million will be invested in the coming years to modernise production facilities for key antibiotics. This investment programme represents the commitment of Novartis to the antibiotics production location in Austria, an important step towards ensuring the reliability of the antibiotics supply. The Novartis plant in Tyrol is the last fully integrated antibiotics production in the entire Western world. The same year marked the beginning of plasmid manufacturing. Plasmids are ring-like DNA molecules required for cell and gene therapies. Accordingly, they comprise a decisive element of all innovative cell and gene therapies offered by Novartis. For this reason, the Kundl site was also expanded to serve as the Novartis competence centre for nucleic acid production.  
In May 2022, the world's most modern production facility for biopharmaceuticals - BioFuture - was opened in Schaftenau. Another new manufacturing plant there, namely Cell Culture 2 (CC2), enables additional capacity increases and consolidates the role of Schaftenau as a Novartis competence centre for modern cell culture technology. Investments totalled € 300 million, creating 180 additional jobs at the two new plants. As a result, Schaftenau is now the largest and most innovative site for the production of biopharmaceuticals in Austria and within the global Novartis Group. 
Another decisive step in the development of the site took place in 2021. We announced the opening of our Campus Kundl/Schaftenau and plans to further expand it by locating life sciences companies there. As a result, an extremely diverse industrial site is emerging which embodies considerable potential for creativity and innovation and delivers even more added value to Tyrol. The founding of AXILS GmbH with the Tyrolean branch of the Institute of Business Promotion offering a unique apprenticeship training and adult education in the field of life sciences to all the companies located on the campus and in the region is yet another strong signal. It also supports the life sciences strategy of the Federal Province of Tyrol and the establishment of another health hub. 
If one considers these milestones, what has happened at the Kundl/Schaftenau location is really all the more impressive. Of course, the most important factor underlying this success story has been our employees. Their hard work and expertise have made all these successes possible and comprise the basis for the innovative spirit of our site - then as now! 
All in all, Novartis has invested about € 900 million in Kundl/Schaftenau since 2010. What prerequisites exist in Austria which led the company to take such future-oriented steps in the heart of Europe?  
Like every business location, the Austrian business location has its advantages and disadvantages. Novartis in Austria is a central development and production hub specialising in biotechnologically produced drugs. Our operations range from research and development to production. The pharmaceutical industry faces strong international competition, similar to many other sectors. In this case cost efficiency is an important prerequisite. However, we not only compete with other companies but with other sites within the Novartis Group, especially when it comes to medium- and long-term investment decisions. 
In this regard, a key factor is having highly qualified staff. At present we employ a workforce of more than 5,000 people in Austria, of whom 4,500 are in Kundl and Schaftenau. Attracting and retaining highly qualified personnel in the long run poses a major challenge to us. This is why we (must) recruit employees beyond Austria's borders and have done this for a long time. We are currently searching for more than 400 new employees due to our strong growth. People from more than 50 nations work at our Tyrolean sites, something of which we are quite proud.  
We consider diversity to be highly enriching, not only from a cultural perspective, and actively promote it. In order to be an attractive employer for people from all over the world, we operate a company kindergarten both in Kundl and in Schaftenau, taking care of more than 130 children of our employees. Above all, we have discovered that a multifaceted and international training offering is an important decision-making criterion for our future employees. An international school in Kufstein, in close proximity to our two sites, has a comprehensive educational offering ranging from the lower grades to the International Baccalaureate.  
Novartis invested € 216 million in research and development in Austria in 2020 and is the leader in this regard. Research and development activities (innovation) account for 11% of the total Novartis contribution to Austria's GDP. To what extent have incentives such as the research tax credit impacted the company's decisions to invest in Austria? 
Incentives such as the research tax credit are necessary signals and can ultimately provide decisive impetus in the final stages of the decision-making process. Final responsibility for approving investments is in the hands of our headquarters in Basel. This means that our campus in Austria is engaged in an in-house competition with all other countries in the group when it comes to investments. Simply put, we share a common goal with Austrian policy makers to make the framework conditions in Austria so attractive that company headquarters decides in favour of the country at the end of the day. In this regard, I would like to mention the fact that Novartis' investments in Austria are disproportionately high in relation to the size of the country. 
I would also like to highlight the economic and social contribution of Novartis to prosperity and innovation in Austria. A value creation study carried out by the WifOR economic research institute concluded that Novartis generated a gross value added of about € 1.9 billion in Austria in 2021. Austrians gain more than 60,000 additional, healthy years of life thanks to therapies with innovative and generic drugs developed by Novartis. In 2021, the products of Novartis and Sandoz helped close to six million domestic patients. This economic footprint impressively illustrates the economic importance of Novartis in Austria.  
Novartis strengthened its commitment to Austria by opening the Campus Kundl/Schaftenau to other companies. This was also demonstrated by the upgrading of the Kundl site into a competence centre for nucleic acid production and launching COVID-19 vaccine production. How do you rate Austria as life sciences location in an international comparison? 
Our life sciences campus in Western Austria offers an outstanding infrastructure linking Tyrol with three neighbouring metropolitan regions and countries such as Southern Germany, Switzerland and Northern Italy. This includes excellent transport connections, a pulsating economic location (the Inn Valley) as well as a stable political environment. This is accompanied by a first-class infrastructure, an attractive labour market and extensive outdoor recreational possibilities. The Technology Campus Tyrol is situated in an attractive environment featuring outstanding, internationally recognised research institutes and universities.  
The business location of Austria has great potential. There are already many pharmaceutical and life sciences companies in the country. This fact together with strong universities and research facilities and favourable framework conditions could make Austria a central innovation player in the European Union and the world. 
Were there any particularly formative or noteworthy events, turning points or personal experiences in the corporate history of the Austrian facility which you vividly remember? 
Michel Rambeaud laid the foundation for pharmaceutical production in Kundl. His goal was to manufacture penicillin in Austria for both the Austrian and French markets. Rambeaud convinced the management of the brewery Österreichische Brau AG of the advantages of his project. In addition to the unused space in Kundl Castle, the company also provided most of the initial capital of 500,000 Austrian schillings. After the difficult early years full of setbacks, biochemists in Kundl managed to produce an injectable penicillin in 1948 which was suitable for people. The big breakthrough took place in 1952 when the biochemical researchers Ernst Brandl and Hannes Margreiter discovered acid-resistant penicillin. 
In many ways what has been achieved at our site is absolutely unique. I am particularly proud of the fact that the location here has repeatedly redefined and repositioned itself. This was only possible due to innovations developed or implemented at the facility. Existing products were continuously further developed as the basis for innovations. These accomplishments are exclusively attributable to the diligence and commitment of our employees. 
Do you have any wishes with respect to the Austrian business location or Austrian Business Agency?  
If we want to be successful in the future as well, we have to begin thinking in terms of health along the entire value chain. The coronavirus pandemic impressively showed us the social and economic significance of health. Entire nations became "vulnerable" practically overnight. We need a new mindset of cooperation of all system players in order to understand business location policy in Austria as an integrated process. The pandemic also demonstrated how crucial it is to strengthen innovation and production in Europe in order to be able to act more independently from economic powerhouses such as China, India and the USA.  
I am concerned that these key insights will soon be forgotten, and we will once again be surprised sometime in the future in line with the motto, "Alas, if we had only not neglected to do …. at that time." 
How did ABA and the regional business promotion agency Standortagentur Tirol support you?  
We are currently involved in a very intensive form of cooperation with the agency in Tyrol and also with ABA with respect to the opening of our Kundl/Schaftenau site for external companies and the establishment of a life sciences industrial park. They are actively supporting us in many different ways, above all thanks to their excellent network and the related possibilities to targetedly address potential candidates with advertising. 
And finally, one last question: what do you personally appreciate the most about Austria? 
The combination of legal certainty and social peace.

Novartis Austria
In 2022, Novartis marked the 75th anniversary of producing pharmaceuticals in Austria. The Novartis Group in Austria and its subsidiary Sandoz are part of the Swiss pharmaceutical giant Novartis. The two Tyrolean sites in Kundl and Schaftenau comprise the largest production centre within the global Novartis Group. The plant in Kundl serves as the production hub for biotechnologically manufactured drugs such as antibiotics and highly complex biologics. The Schaftenau plant is the Novartis competence centre for modern cell culture technology. In May 2022, the company opened BioFuture, the world's most modern production facility for biopharmaceuticals, at the Schaftenau site. In 2021, the Campus Kundl/Schaftenau was opened to attract business location projects of other life sciences companies.  
Back to main navigation